Meredith
Meredith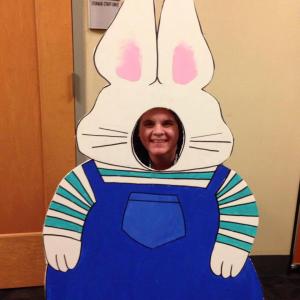 Interests:
Fiction, Dystopian, Humor, Romance, Suspense, Graphic Novels, Biographies, Cookbooks, Memoir, Self Help, Young Adult
About Me
I was the girl who got in trouble at school for reading during class. I often got in trouble for talking out of turn, too. This is why my friends thought it was odd I was hired to work at ICPL. Libraries are typically quiet; I'm not. Luckily, as the Library's Public Relations Specialist, I work behind the scenes, where it's OK to be a bit louder.
What do you like to read?
A little bit of everything. I tend to go through periods where I'll only read books written by one author or books from a certain genre before moving on to something new. I stay away from horror books because I have an overactive imagination and a fear of clowns that does not need to be encouraged.
What is your favorite thing about ICPL?
When my family moved to the area, getting our ICPL Library Cards was one of the first things we did! As someone who has a TBR pile she'll never finish, I love that the Library has the resources to entertain and educate in numerous ways -- for free! As an ICPL employee, I love seeing the many ways the Library touches the community every day.
Do you have pets?
I have two cats: Sparkle Sky and Godzilla. This is what happens when you let your children name the family pets.
Share a surprising fact about you.
I've gone skydiving. Jumping out of the plane was terrifying, but floating to the ground was extremely peaceful.