Jacy
Jacy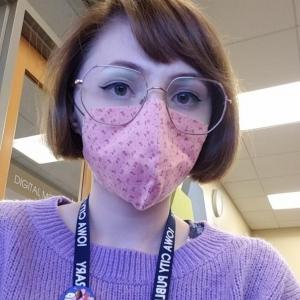 Interests:
Fiction, Horror, Fantasy, Cookbooks, Crafts, Young Adult, Short Story
About Me
Where you'll find me: At the downstairs Help Desk, or else browsing the shelves for my next read/listen! If I'm not out at the Help Desk, I'm behind the scenes working on the Digital History Project.
Do you have pets? I have two cats. The older cat is named Stevie, and she is a Russian Blue with an attitude and a loud "meow." Her favorite hobby is knocking her water bowl into her food bowl and watching me clean it up. My kitten, Stella, loves chewing on my headphones when I forget to put them away (I've learned my lesson since). They both enjoy chasing each other down the hallway.
What are your hobbies? My hobbies include cooking, baking, and sewing. I like to cook healthy meals to eat throughout the week and to bake snickerdoodle cookies and cakes on the weekends. For sewing, I began quilting with my Oma and have started making clothes more recently.
What do you like to read? When I'm looking for a new book or audiobook, I could be in any of the different areas of the library since I have a lot of interests. I like to read YA fiction, since it reminds me of a lot of good reads from my childhood. Adult fiction is also high on my list, especially if it's by Stephen King. The nonfiction section isn't safe either; I've walked out with a stack of cooking or crafting books many times before. I'll try to read any book once, and have a few King books I've read too many times to count!