Karen
Karen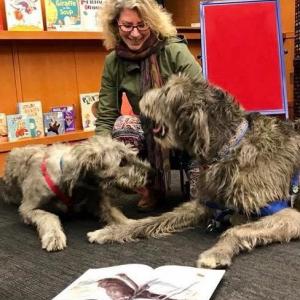 Interests:
Fiction, Historical Fiction, Fantasy, Memoir, Health, Nature, Gardening, Cookbooks, Crafts, Picture Books, Short Story, Graphic Novels
About Me
I'm Karen, and I work in the Children's Room. You can find me at the Children's Desk, or out and about town delivering outreach storytimes at community daycares and preschools. I also lead the Book Babies program on Friday. Kids books are my speed. I love the stories, and I appreciate the art and creative concepts found in picture books and board books. I love listening to kids' books on CD or eAudio while driving to and from my way to work. I have two Irish Wolfhounds, Nuala, and Caiomhe (Kee-va). They are snugglers and they win a prize for being the biggest lap dogs. Speaking of lapdogs, I recently added a real lap dog to my pack, a Coton de Tulear, Sailor, who is a funny white puffball of a dog and who likes to think he's as big as his sisters.
In my free time, I like to travel, garden, bake, hike with my dogs, teach kids yoga, and spend time with my family and seven-year-old grandson.