Maeve
Maeve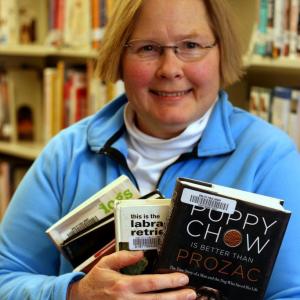 Interests:
Biographies, Mystery, Suspense, Thriller, Nature, Travel, Memoir, Science, Animals
About Me
Where do you see me in the library?
At the Info Desk on the second floor, where you also find the adult nonfiction collection, aka, the wide world of learning. You also might find me in Meeting Room A at a library program, especially one on local history. I am the Adult Services Coordinator here at ICPL, though 25 years ago when I rejoined the the library staff my title was Reference and Information Service Coordinator.  Much has changed in the library world in 25 years, but many things remain the same.  Books are still the bedrock of the Iowa City Public Library. 
Do you have pets/where do you like to read?
I like to read in a sunlit room with my cat Calvin curled in my lap.  Calvin, being a cat, may need be reminded that curled in my lap means stationary and not in front of or on my book.  I've pretty much always had a cat with the exception of a couple of years in college.  I had dogs as a child and have had dogs as an adult and waiting for the perfect one to come into my life soon.  I also like to read in bed, but then, who doesn't?
What is my favorite thing about ICPL?
Working in a library like ICPL is like working in a candy store.  I always want to sample everthing, especially items from the nonfiction collection with eye-catching covers and/or provocative titles. 
What is my favorite part of my job?
One of my favorite parts of my job is getting to help the public find answers to their questions.  The hunt is always fun, and the more challenging the better.  And I get to learn something new or teach someone how to find answers on their own.
What memory do you have of your hometown library?
I spent a lot of time in my hometown library.  I grew up before there were computerized circulation systems so each book had a card with the names of the people who had checked out the book before me and the date it was due.  It kind of felt like the readers before me and I were part of a club that liked the author or a topic.