Morgan
Morgan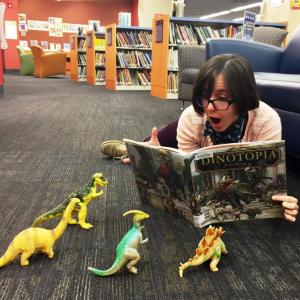 Interests:
Fiction, Adventure, Fantasy, Historical Fiction, Mystery, Science Fiction, Graphic Novels, Kids, Early Chapter Books, Picture Books, Biographies, History, Memoir, Travel, Young Adult
About Me
Title: Children's Services Librarian
Where you'll see me in the Library:Children's Desk and Tween Space
What memory do you have of your hometown or school library?For my help in cleaning the library at the end of my fifth grade year, my school librarian gave me a copy of "Harry Potter and the Sorcerer's Stone." This began my life-long love for all things Harry Potter and sparked my interest in working in a library.
Do you have pets?I have one cat, Throgmorten (Mort for short), who is an impressive mouser and rules over my two dogs, Jake and Suki. Their talents include barking at passers-by during the day and snuggling on the sofa in the evening. I also have a spotted-python, Louise, who is grumpy but very pretty when she comes out from under her rock.
What are your hobbies?Traveling, followed closely by reading, which is, of course traveling via imagination. I also enjoy embroidering, cooking, watching movies, playing board games, disc golfing, bicycling, hiking, and camping.